Playmate Ball Machines
reBounces is a Playmate Ball Machines Authorized Sales & Service Representative. We sell & service commercial Playmate Ball Machines in the following states: Arkansas, Oklahoma, Missouri, Kansas, Nebraska, Iowa, Minnesota, North Dakota and South Dakota. If you are having problems with your commercial Playmate Ball Machine please call us at 888-751-5125. Need parts for a Playmate Volley or Ball Mower – give us a ring or shop for them at alltennissupplies.com.
In the summer of 2015, reBounces partnered with Playmate Ball Machines.   reBounces provides on-site service and training for tennis clubs, pros and Playmate Ball Machine owners in "Central USA".  IF you are in one of the states listed above, please do not hesitate to call us. reBounces can help service, trouble shoot or guide purchase decisions for any of the Playmate Ball Machines that are available.
Similar to how our Green Tennis Machine was an industry first, the iGENIE is an industry first — the FIRST ball machine (from Playmate or anyone) that any tennis player can set-up and use with a push of a few buttons. Once the iGENIE is calibrated by an Authorized Service Rep (e.g. reBounces), anyone can begin to throw multiple types of shots (ground stroke, approach, lob, etc) to any area of the court (deuce, ad court, up the middle, etc) in any combination.
The iGENIE Playmate Ball Machines for Club Members

The iGENIE Playmate Ball Machines are the easiestmachines to use, period! Just choose your Player Level and Select Shots to play. Or, don't select anything and it will start feeding an Easy Rally Ball straight ahead.
Now you want to move around? Press the buttons on the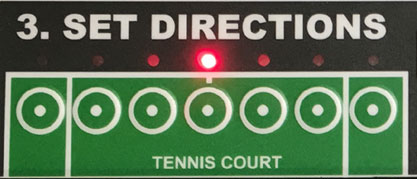 picture of the tennis court to choose where to send each of the Shots/Balls you've Selected.
The iGENIE Playmate Ball Machines for the Pro
Creating drills for groups is easy with iGENIE Playmate Ball Machines. Choose a Player Level that matches your lesson/group and then Select Shots in order. For example, hit Medium Player level (NTRP 3.0 through 4.0), and then hit High Short Ball two times and then hit Lob two times. On the picture of the tennis court, Set Directions for a 2-line drill by pressing the button left of center and then the button right of center. That's it! You have a 2-line group drill.
THE iSMASH Playmate Ball Machines
---
THE BALL MOWER
---
---
THE PLAYMATE VOLLEY (PORTABLE)